Reflections on my internship with the MaRS Solutions Lab
Below is a reflection by our outgoing professional intern Jodi-Jane Longley.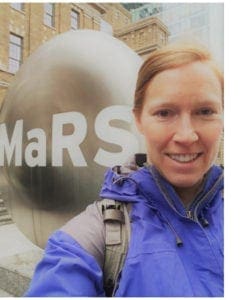 What do hospital procurement, municipal procurement, and youth employment have in common with the Canadian Forces? A discovery voyage at MaRS helped me find out.
As a student of the Canadian Armed Forces (CAF) Joint Command and Staff Program (JCSP) pursuing a Masters in Defence Studies (MDS) from the Royal Military College of Canada (RMCC), I seized the MDS completion opportunity to conduct an 8-week professional internship at the MaRS Solutions Lab.
The internship strived to explore a mutual benefit between MaRS Solutions Lab (MSL) and the CAF, and thus to narrow my focus I decided to tailor my experience to the needs of Canadian Special Operations Forces Command (CANSOFCOM), headquartered in Ottawa, Ontario. The CANSOFCOM vision espouses a Force that is agile and adaptive and therefore seeks methods to maintain those qualities in its people and processes. It is also considered the leading edge branch of the CAF with regards to innovation adoption and risk acceptance. The MaRS Solutions Lab approach involves using design methodologies to help governments and institutions modernize policies, find new insights, work collaboratively and get equipped with tools and techniques to create meaningful change. Looking at these two organizations, I was confident that I could find synergies between them as the former has needs for and the latter has ways of unlocking innovation and problem solving, particularly in the public domain.
My Experience
Under the guidance of the Director of Systems Innovation, Jerry Koh, I was aligned with a handful of projects that were at various stages of progress in order to gain the broadest exposure to MSL processes during my 8 weeks on the ground. The first was Opportunity for All Youth (OFAY) being led by Richard Derham and in its launch phase with a goal of helping to connect talented young people with businesses that need them through innovative, collaborative and targeted youth employment initiatives. The second was with the Municipal Innovation Exchange (MIX), led by Hyun-Duck McKay, which is anchored around innovating municipal government procurement practices to bring more economic opportunities for businesses to meet the needs of their communities through better public sector service delivery. The third project is the most recent iteration of the Innovation Procurement Partnership by Co-Design (IPPCD) co-led by Lily Lo and Hyun-Duck McKay. The IPPCD brings together health care providers and vendors to collaborate on solving health care provision challenges through co-designed procurable and innovative solutions.
What Inspired Me
The MaRS Solutions Lab is a small yet incredible team within the greater MaRS Discovery District that, similar to the Canadian military reputation in the eyes of the international community, is punching well above its weight in terms of reach and impact.
Three of the many insights that I have gained over the course of my 8 weeks fall under the following categories: temporal expectations, the layers and levels of design impact, and the military connection to MaRS and design.
Insight one: The temporal expectations of design
The full impact of innovation and design does not happen overnight, nor is it achieved in a 2-day workshop. Notwithstanding the fact that systemic design and all of its related disciplines in the context of innovation should be iterative and ongoing by nature, even the first cycle through a process takes time. Most MSL projects are planned to span 1-3 years as opposed to in an afternoon's consultation.
Although there is debate whether Moore's Law will continue to apply much longer into the future as technology shrinks, there is little argument against the increasing pace of technological changes in our future. This is great for the pace of opportunities in our evolving world, however in the greater realm of social innovation, humans are still our best assets as well as our biggest limitations to the pace of change. Innovation happens at the pace of building trust. Any innovation or design process must take into account the people involved, and by extension the structures they create.
Each project that MSL takes on follows a well-thought out, human-centered design process that is weighted at the outset to the 'Discovery' phase where getting to know all the stakeholders and the environments in which they interact is both deliberate and imperative to the success of things moving forward. The networks that are built, and the interactions with the people involved are the key fibres through which the rest of the innovation, co-design and co-development processes function.

Insight two: There are many Levels and Layers to the design discipline
Visiting fellow Dr. Mieke van der Bijl-Brouwer presented a lunch-and-learn one day that highlighted the author Kees Dorst's levels of design expertise ranging from Naïve and Novice all the way to Master and Visionary. The acknowledgement that design is the third discipline alongside Art and Science should thus present no surprise that there are levels of expertise within the domain. My key takeaway is that with social innovation and using design methodologies, it is important to keep in mind the varied levels of individuals' exposure, experience, understanding and even skepticism in the process. These traits may be increasingly more unfamiliar as larger organizations and groups of stakeholders are brought together. This presents a compound challenge: first just to have those involved believe in a common goal, and in considering the expertise levels, the greater challenge for participants is to have some faith to partake in an unfamiliar process.
In terms of layers, I have become more enthralled with the scale of how to apply systemic design thinking. Consider first an individual and how they can adopt the mental model of what, why and how to use design. Next, consider how a team can do the same (and how many 'design' exposed individuals need be in that team), and then similarly expanding to the Organization and Inter-Agency levels. One hopes that eventually a critical mass of societal exposure to design will allow greater access and acceptance to the methods, thus enabling it to become a broad societal tool in the complex problem-solving toolbox of our futures.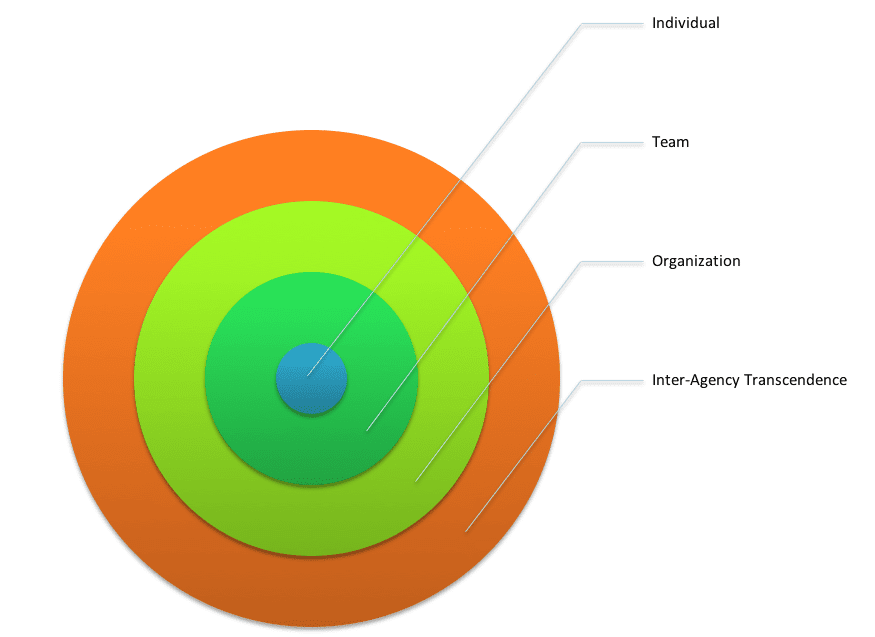 Insight three: The Military Connection with MaRS Solutions Lab and Design
The Department of National Defence inclusive of the Canadian Armed Forces is the largest department in the Canadian federal government. It is an institution with a time-honoured history of tradition, bureaucracy and certainly its share of long-standing policies and processes. Despite its size, history and possibly its institutional reputation, it is not without both need and desire to innovate and be more agile looking into its future operating environment. As of 2017, Canada has a new Defence Policy: Strong, Secure, Engaged, that is driving a new innovation agenda. April 2018 saw the stand-up of Innovation for Defence Excellence and Security (IDEaS) as a nation-wide initiative to collect Canadian citizen and industry inputs into helping solve national defence challenges in a co-design manner.
I was pleasantly surprised to discover that Dr. Alex Ryan began his journey into systemic design as a Defence Scientist for the Australian military where he was challenged with complex military problems that could not be solved with traditional planning processes. Additionally, Jerry Koh began his career working within the rigid structures and processes of the Singaporean military. Now they make up the leadership of Systems Innovation for MaRS leveraging their broad experiences and educations that include these military services. As we look back at major industrial and technological innovations, it does not take long to see that military demands (and their budgets) influenced many innovations in communications, aerospace, transportation, manufacturing, etc. over history. The major war-driven defence budgets of the past are long behind us, including former large investments in defence R&D and innovation, however the focus is shifting back and the new innovation agenda is going to have to include looking to non-traditional access and approaches to new ideas, technologies and processes to maintain competitive advantage in the defence of Canada.
The MaRS Solutions Lab is already doing extensive work with the public service at Municipal, Provincial as well as Federal levels. Many of the project foci are on innovating procurement practices for new, untested products and services that are long overdue in every department across the public service, including Defence. Another major theme is connecting providers with consumers such as matching employers that need employees in the OFAY, and many of the Smart Cities initiatives intended to deliver better services and more value for what residents pay for, enabled by emerging technology. Both of these themes resonate strongly with the contemporary needs of Canadian defence innovation for procurements, recruiting and beyond.
My natural conclusion from everything that I have seen is that individuals, teams, and various size organizations within the Department of Defence can benefit from the types of initiatives as well as tools and processes pursued within the MSL. Whether through direct engagement, observer status through other public service partners, or partnership on a broader multi-department initiative, there is a substantial value proposition to be unlocked between the "world's largest urban innovation hub" and the Canadian Armed Forces. And I personally think the best place to start is further 'discovery' from CANSOFCOM.
Filed Under