Pilot Projects and Problems
Note:  This is an excerpt from a post that Kent Aitken originally published on the Scheming Virtuously blog about Joeri van den Steenhoven's visit to Ottawa on April 10 to talk about systems change. It has been reposted here with his permission.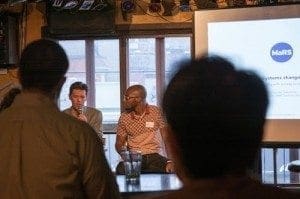 Earlier this month the Director of the MaRS Solutions Lab, Joeri van den Steenhoven spoke in Ottawa about Systems Change. The Systems Change idea is that to solve Canada's complex problems, we not only have to create new solutions but alter the systems in which we develop and implement solutions in the first place.
There was much to dig into from Steenhoven's talk, but for today I want to point to a statement he made about pilot projects. His idea was that while we dutifully test out ideas –  we being social entrepreneurs, businesses, municipalities, provinces, or the federal government – we rarely maximize or scale what we learn through those pilots.
I'm sure we could make a long list of why that is, but I've had three factors in mind lately: the We're Special syndrome, False Negatives, and False Positives.