Cohort 2 Procurement by Co-Design Pitch Day Winners and Recap
Co-design procurement grants recipients
On July 20, three teams from the final cohort of the Innovation Partnership: Procurement by Co-Design program—a partnership between MaRS Discovery District and the Ministry of Government and Consumer Services—were awarded innovation procurement grants, funding that will be applied toward the procurement of their solutions.
The judges awarded:
$10,000 to St. Joseph's Health Centre and Mappedin to procure their digital way-finding solution that supports patients to independently navigate across St. Joseph's multiple facilities, empowering their volunteers to focus on guiding patients with complex needs
$15,000 to Peterborough Regional Health Centre and Lab Improvements to procure their automated slide archiving solution, Slidetrack, that increases traceability of histology slides, allows lab staff more time to focus on critical tasks, and reduced the turn-around time to complete requests made by pathologists
$25,000 to Bayshore, Kingston Health Sciences Centre, and Verto to procure their two-part solution, RightPath, that lowers patient anxiety and stress associated with acute longterm care through a caregiver portal, and administration tool that supports the ALC transition process
Congratulations to all of the teams!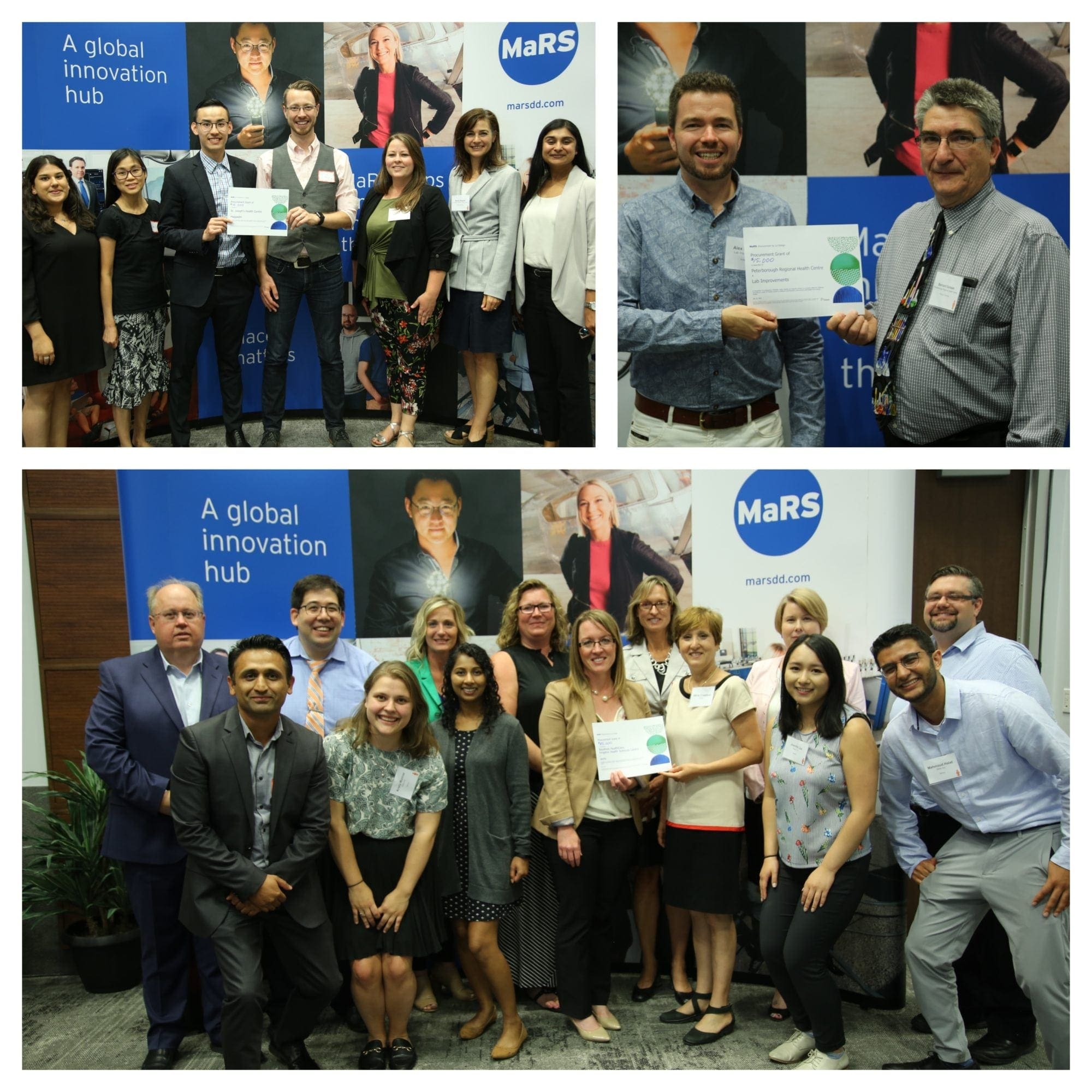 Top row: SJHC & Mappedin team (left), PRHC & Lab Improvements team (right)
Bottom row: Bayshore, KHSC, & Verto team
Judges awarded grants based on 30 minute teams pitches that highlighted the desirability , feasibility, viability, and impact of the solutions.
As part of their pitch, each team highlighted the insights that arose from the collaboration and engagement they had with their end-users which included patients, clinicians, and administrators. Teams also discussed the results from the evaluation of their minimal viable prototypes against the outcomes based targets they set earlier in the process to inform their procurement decisions.
The MaRS team would like to thank the judges: Tom Closson, Greg Downing, Sarah Friesen, Chris Ferguson, Alexis Wise, Fanny Sie, and Ying Tam for providing their expertise and time both leading up to and on the day of the event.
Event Recap
We would also like to thank our special guest presenters who kicked-off the day:
Cohort 1 winner Andre Vandenberk who presented insights and learnings from his experience scaling the Vital Hub Long-Term Care solution that they co-designed with their partner Trinity Village. In June, Vital Hub announced that they anticipated the solution to produce deals on a quarterly basis
Cohort 2 team North York General Hospital, Connexall, and Hill-Rom presented their work on reducing patient falls with a proactive approach that includes better predicting a patient's risk of falling, notifying staff of the change so they can take meaningful actions to prevent the fall, and utilizing smart-bed technology
Cohort 2 team St. John's Rehab Centre at Sunnybrook and Niatech that are working to significantly change how prosthetists create sockets for lower limb amputees using 3D scanning and printing technology
Both Cohort 2 teams were unable to reach a procurement decision for their solutions in time for Pitch Day, but are still committed to continuing their projects outside of the program. The MaRS team would like to thank these teams for their participation and for sharing their journey and lessons with our audience.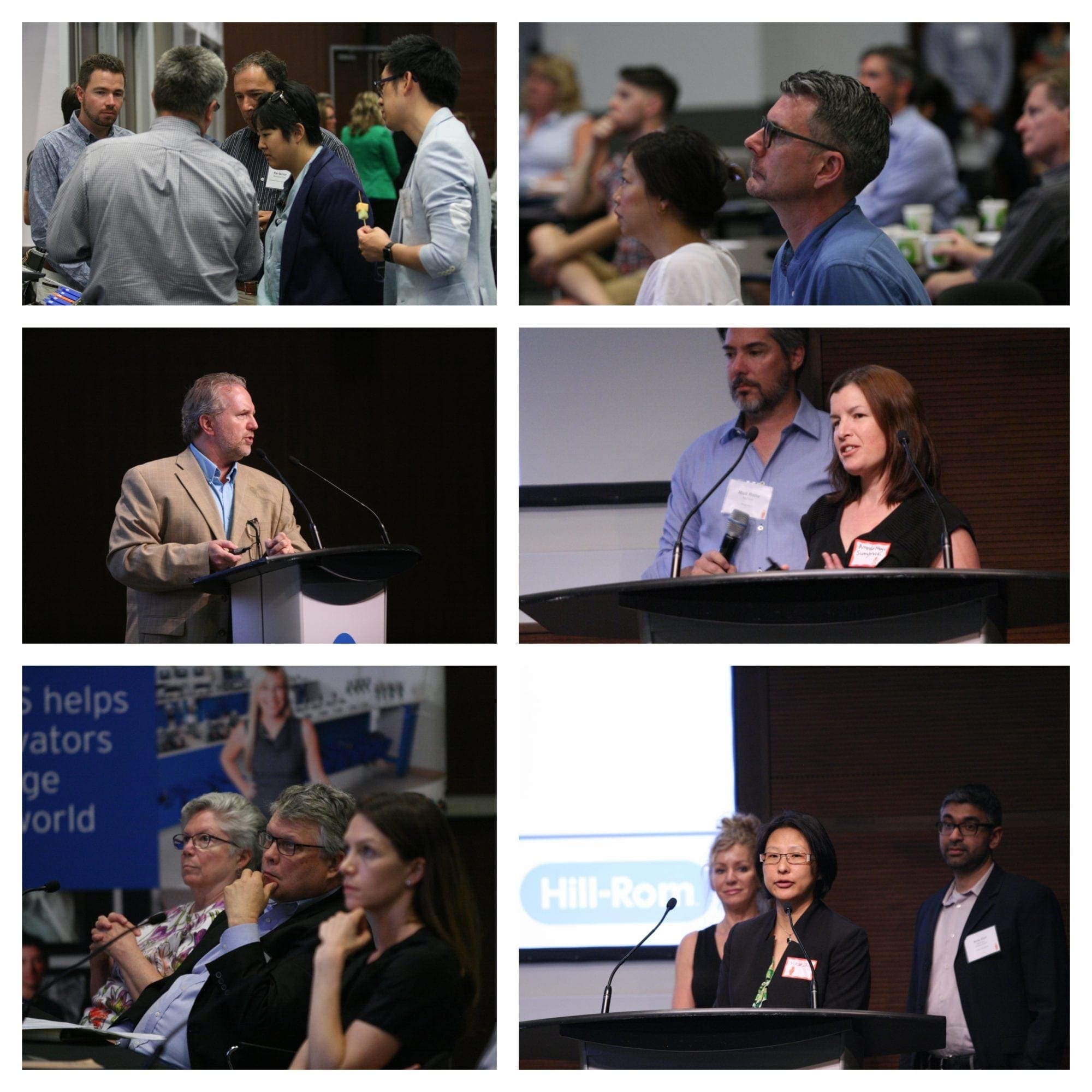 Top row: attendees checking out Slidetrack with Alex Bushell Co-founder of Lab Improvements (left), judges Chris Ferguson of Bridgeable and Fanny Sie of Canada Health Infoway (right)
Middle row: Andre Vandenberk, VP Mobile, Vitalhub (left), Amanda Mayo of St.Joseph's Rehab Centre and Matt Rato of Niatech (right)
Bottom row: judges- procurement expert Sarah Friesen, Greg Downing formerly of the US Department of Health and Human Services, and Alexis Wise of Sidewalk Labs (left), Yihan Zhang of Connexall with Arun Dixit and Dawne Barbieri of NYGH (right)
Here are some snippets of the day from our @MaRS Solutions Lab Twitter:
Key insight part of user testing digital way-finding Co-Design process know where you are first before providing directions where you want to go #PxCoDesign2018 @mappedin @stjoestoronto pic.twitter.com/v8geMTy7MC

— MaRS Solutions Lab (@solutions_lab) July 20, 2018
Theme for the day automation allows staff to focus more on critical tasks rather than reducing staff numbers. @LabImprovements @stjoestoronto @mappedin @peterborough_regional_health #pxcodesign2018

— MaRS Solutions Lab (@solutions_lab) July 20, 2018
Key benefit for co-design, we had access: nursing staff, hospital staff/clinicians, patients and caregivers #pxcodesign2018 @VertoInc pic.twitter.com/JR1wUlTjZV

— MaRS Solutions Lab (@solutions_lab) July 20, 2018
The MaRS team will be producing more case studies of the projects from both cohorts and will be sharing a report and toolkit based on the input and experiences of participating teams.
If you have any questions about the program or are thinking about starting your own innovation procurement project, contact us at: designchallenge@marsdd.com