What does Entrepreneurial Thinking look like in schools?
How do we prepare our youth for success in an ever changing world? MaRS believes that our youth can develop an entrepreneurial mindset and skills by embedding real world, student led, inquiry based projects into school classrooms. Entrepreneurial thinking supports 21st century competencies such as creativity, collaboration, communication, critical thinking, character, global citizenship and computer literacy. It enables teachers to be coaches and facilitate experiential ways of student learning based on play, passion, and purpose to build new things and new contexts and to create meaning in today's networked world. MaRS is in discussions with the Toronto District School Board (TDSB) to explore how we can collaborate on this opportunity through teacher professional development, entrepreneurs in residence and concurrent student led projects in the classroom.
MaRS recently had the privilege of hosting 8 teachers in the MaRS-TDSB 2014 Teachers in Residence Summer Institute. Teachers participated in the MaRS Future Leaders 5 day entrepreneurship boot camp, explored the concept of entrepreneurial thinking, met with MaRS entrepreneurs and worked with MaRS facilitators Joseph Wilson, Susan Paetkau and Ryan Burwell to build the entrepreneurial thinking process and activities into student projects for their courses this fall. So what happened and what did we learn?
The most significant thing discovered by teachers:
"The 'why' behind inquiry or projects that are done in class.  Giving kids the chance to investigate problems and develop solutions using creative thinking"
"Entrepreneurship is throughout all curricular areas, collaboration between students and teachers is important for student buy-in, also pivoting and iteration is a good thing regardless of timelines."
What happened?
The MaRS Future Leaders entrepreneurship boot camp for 13-18 year olds moves quickly through a series of activities for students to see problems as opportunities, interview potential customers, identify a target market, create quick prototypes, draft a business model and present a compelling pitch.  Real- life entrepreneurs like Henry Cho from Revelo Bikes and Ilana Ben-Ari from Twenty One Toys shared their stories.   The teachers participated in the activities with students, observed how students engaged in the entrepreneurial thinking process and explored their own ideas for a classroom entrepreneurial project.   Small groups of students and teachers interviewed each other to get customer feedback on problems/solutions, pivoted and developed their ideas using a business/learning model canvas.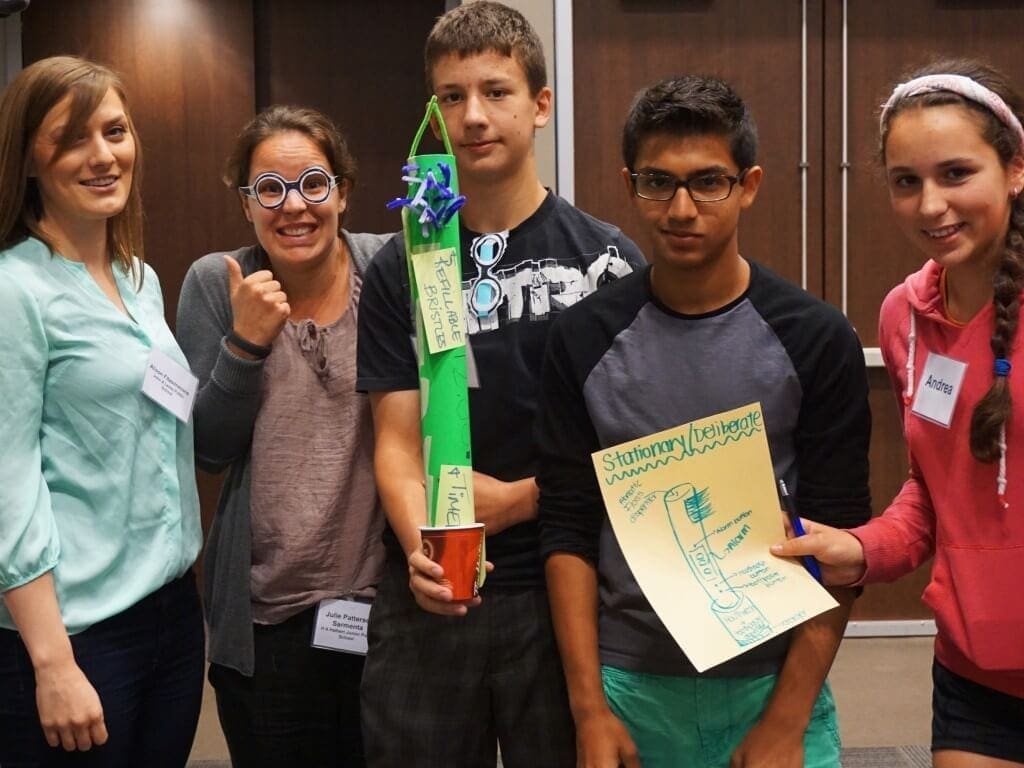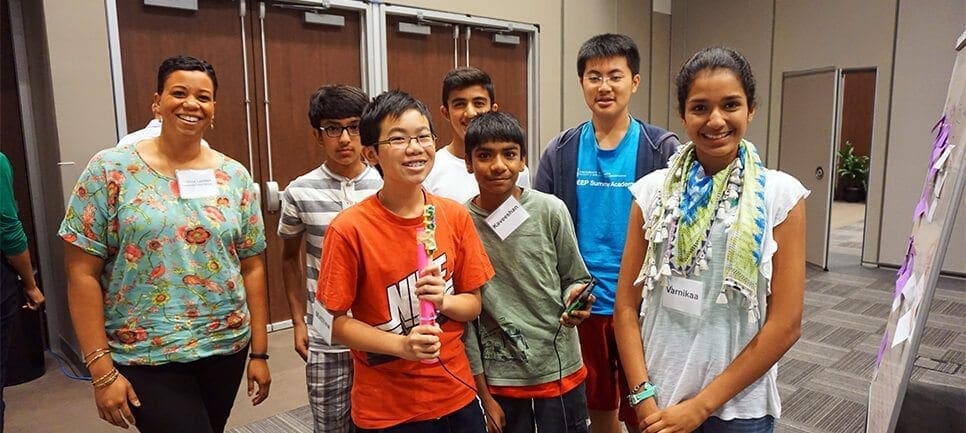 Teachers felt participation is Future Leaders boot camp was helpful in understanding the entrepreneurial thinking process and potential impact on students because 
"Seeing the eagerness of students, their abilities, their creativeness, amazing ideas and pivoting. Blew my mind as to what they could do and the impact they can have in the world"
MaRS facilitators engaged teachers in exploring entrepreneurial thinking and its application in schools.  We discussed characteristics of entrepreneurial teachers and videos such as What Does It Mean to Be An Entrepreneurial Learner, The Ten Myths of Entrepreneurship and What If Students Designed their own School.
A dozen more entrepreneurs such as Ryan Porter from Raise Your Flag, DJ Cunningham from LearnStyle, Hamoon Ekhtiari from MaRS StudioY and Adam Eydelnant from BevLab inspired us by demonstrating the entrepreneurial mindset and how it engages youth to learn and reach their potential.  Collaboration among the teachers, MaRS facilitators and feedback from students further shaped the teachers' development of entrepreneurial projects for their classrooms.
Kindergarten: Monthly activity centres for students to experience entrepreneurial competencies such as empathy, creativity, teamwork, communications, health, resilience, self-confidence; students create a new toy and communicate with a virtual penpal
Grades 4 & 5: Environmental impact inquiry for students to explore and investigate the uses of water, their impact on bodies of water and creation of a product/campaign that promotes environmental awareness or problem related to water in their community
Grades 7 & 8: Social justice project for students to connect with young social innovators, research a global or local issue and create a thesis and persona, consider feedback from peers, develop a solution, present it in an engaging presentation format and reflect on their learning
Grade 9 Integrated Science, Math, English and Technology: where students use critical thinking skills to analyze the composition of each planet, answer questions about what humans need on earth, and conclude by presenting a pitch on which planet is best to build a human colony on
Grade 9 Applied Math: Proportional reasoning including ratios and rates through redesigning a classroom, pizza ratios and value proposition, market research and rates, astronomy and scale and a project where students pitch a solution for a school problem to the principal
Grade 12 Marketing: 10 Fun Friday marketing challenges and culminating product fair where groups of students create a prototype, pitch and promotional video for a product or social innovation working through company dynamics and idea generation, product and consumer testing, business model generation and pricing/revenue strategy, the product and promotion plan, the product fair presentation
MaRS facilitators asked teachers for feedback on the structure and activities of the Future Leaders boot camp and how the entrepreneurial thinking activities can effectively be shared with educators through professional development in a way that can be easily and quickly adapted to their classrooms across grade levels and subjects.   This feedback is guiding the development of MaRS Entrepreneurial Thinking Toolkit for Educators based on 5 themes: idea generation, self assessment and collaboration; research and discovery; idea development; persuasive communications and next steps.  Teachers also suggested hosting the launch of professional development for educators at the MaRS collaboration centre as well as a project innovation fair at the end, developing activity cards for the toolkit, active mentoring by MaRS facilitators and entrepreneurs, involving students, and dedicated time for teachers.
What did we learn?
The entrepreneurial projects of the 8 teachers will directly impact about 250 students in the coming year.   Teachers plan to share their classroom entrepreneurial projects with 1-2 colleagues and develop a second project for another subject increasing the number of students reached.  They also saw opportunities to use projects developed by their colleagues during the Summer Institute.  All teachers developed significant entrepreneurial projects for their classroom incorporating many of the activities from the Future Leaders entrepreneurship boot camp.  Teachers felt their boot camp experience and collaboration with MaRS facilitators, entrepreneurs, other teachers and students were important to their understanding of entrepreneurial thinking and ways to embed it in classroom projects.  They would recommend the program to colleagues.
Other helpful insights were gained about the teachers and students at their schools.  Seven of the 8 teachers had students facing barriers:  newcomers, low income, youth with disability and special needs, youth at risk.  The teachers were inspired by the variety of entrepreneurs and interested in using their products and services as part of their projects.  Before the program, all teachers thought entrepreneurship was associated with business studies, a couple science or English, afterwards they felt it was a thinking process which crosses all subjects.  After the program, teachers felt they will be more willing to try new things, engage students in lessons, and give assignments based on students identifying real world problems.
Our next challenge is how to scale the key elements of the program to schools with equal impact in a sustainable way.