Open data enables Ottawa's entrepreneurs

Open Data Ottawa is a citizens' group that has been working with the City of Ottawa to encourage open data release and to enable open data use. The city's open data initiative has already delivered value for citizens and provided a platform for entrepreneurs from the Ottawa area and from all across Canada.
Starting in 2010, the group has held a series of hackfests, events to bring software coders, data owners and citizens together to create wonderful things. The fifth event will be December 8, 2012, at Ottawa City Hall. Called Learn Hack YOW, it will be a mix of hands-on tutorials and hacking. In partnership with Ladies Learning Code, it is reaching out to communities beyond just hackers.
Registration for Learn Hack YOW is available online.
Two areas of better service delivery related to open data are transit and garbage collection.
Open data on the bus
Ottawa has an extensive bus transit system with many stops and routes. A combination of cold winters and delayed buses can make for unhappy citizens. That's why Open Data Ottawa, supported by leaders on Ottawa's council, pushed back at a refusal from the transit agency to release its real-time bus location information (GPS locations) as open data. The release of this data has enabled an ecosystem of bus apps and websites that tell exactly when a bus is going to arrive at a stop.
The adoption of open data has also helped to transform the culture and IT at the transit agency (OC Transpo) itself, with both a developer resources site and a (partial) list of third-party applications and websites that use OC Transpo data.
Transit open data isn't just about knowing when the next bus will come. With map visualizations, it can help you make decisions about where to live based on travel time.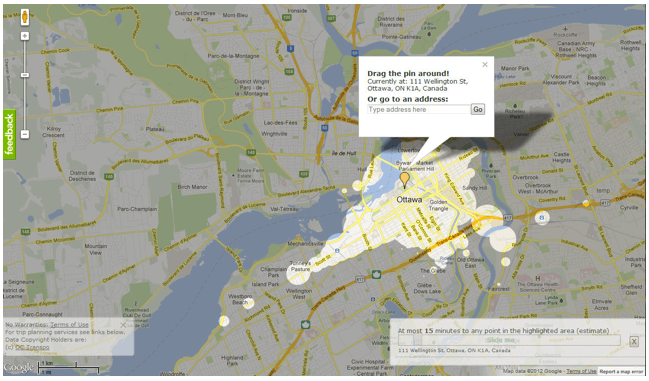 Above, the Mapnificent site uses basic schedule data in a format called GTFS to show where you can live to be a 20-minute transit trip to Parliament.
App usage can also provide additional information to transit planners—in the map below, from the OC Bus Tracker app built by Sean Kibbee, we see bus stop information requests and an indication of which stops get the most requests.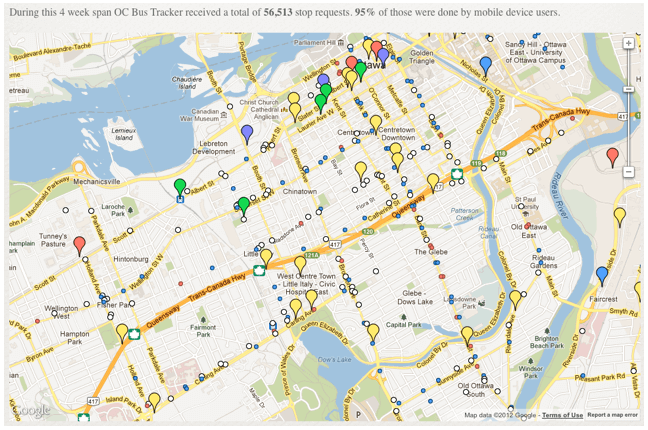 We can now start to move to the concept of citizens as sensors—for example, the data about stop requests could help the transit agency make decisions about scheduling as well as determining which locations may need transit shelters.
Open data in, garbage out
Garbage schedules can be complicated, particularly when different types of recycling are added in. Ottawa helps citizens not only by providing the schedules as open data for anyone to use, but also by using a Canadian service built around open data, recollect.net.
Recollect is a business that takes the city's garbage schedule data and enriches it with their service, providing customized alerts to citizens through a variety of possible channels, including Twitter and SMS.
Recollect's Luke Closs will be speaking about entrepreneurship at the Learn Hack YOW event.
Open data everywhere, entrepreneurs enabled
Open data isn't just a technical abstraction. It's entrepreneurs like Luke Closs and Sean Kibbee, creating new products to make city services better. It's creative people like all of those who submitted to the first Apps4Ottawa contest. It's an opportunity to open up government and help it work better.