MaRS Future Leaders: Bigger than ever in 2014
MaRS Future Leaders is a unique experiential program for youth who are interested in learning about entrepreneurship and gaining hands-on experience. The program is designed to demonstrate that entrepreneurship is a viable career path.
Now in its third year, this summer the MaRS Future Leaders boot camp broadened its reach to students aged 13–18, divided into two cohorts. Originally open to students aged 13–15 only, the addition of a second cohort of students, aged 16–18, doubled the number of creative ideas and innovative companies founded in the short timeframe of just five days.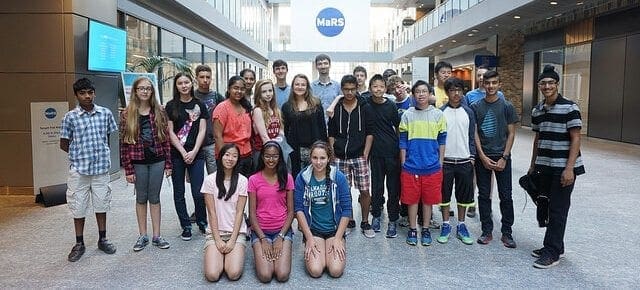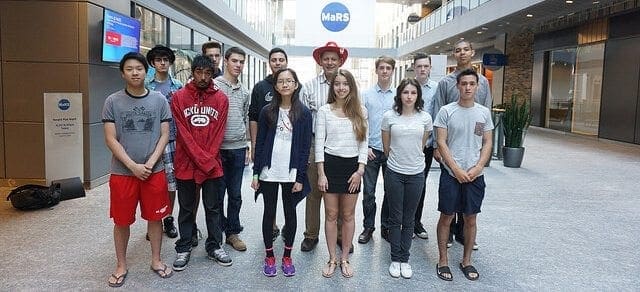 Each cohort worked in teams to create a business idea, perform customer development, film a commercial, and pitch their business to a large audience and a panel of judges, competing for a $1,000 prize.
MaRS Future Leaders has been generously supported by SAP for the past three years, and this year we were pleased to welcome SAP staff members Reuven Gorsht, Eric Perelshtein, Muzna Siddiqi and Wayne Pau to mentor the students, and Christopher Singh and Lalit Canaran to judge the pitch competition.
"It was a privilege and honour to judge this MaRS event. I am grateful for this opportunity and have full faith in our future leaders." – Chris Singh, Vice President, Application Innovation, SAP
We asked the winning company from each cohort, Tip Tap and Easypick, to write a guest post about their experience and what they learned about launching a business. Read what they had to say below.
Junior Cohort
Tip Tap
The moment you realize your oven or curling iron might still be on is scary and stressful. Tip Tap is an app that allows you to turn appliances on and off from your mobile devices.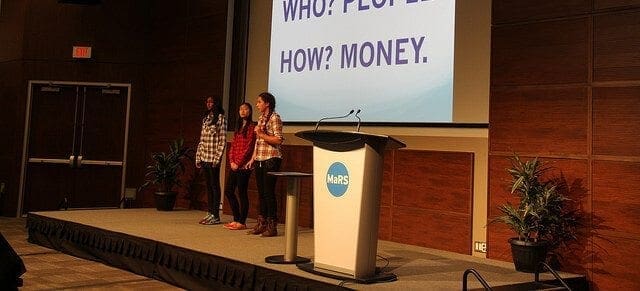 When my mother told me she had put me in the MaRS Entrepreneur Boot Camp, you can imagine I wasn't exactly excited about it. However, it turned out to be one of the best weeks of my summer. The camp was informative and astonishing. We got to meet a lot of successful entrepreneurs who helped show us the paths into business, as well as talk to our mentors to get feedback on our product.
From the very first day, we all had the chance to design, or actually redesign, a product (a toothbrush!) and get feedback from strangers. This taught us how important it is to have customer feedback, and it is probably the most important tool of all. We then moved on to develop a value proposition and a business model canvas, make business cards and get the audience involved through social media sites. We then got to shoot our own 30-second promo video, which described what our product was and why it is right for our audience. We even received a lesson on how to boost our self-confidence from Adam Hart-Owens, who is an amazing cellist! Our facilitator, Ryan Burwell, seemed overwhelmed with joy when Adam brought out his cello.
Ultimately, we had an extraordinary experience! Without coming to this camp we would have never found the passion inside of us to develop an app and a commercial product. Through five days of learning we adapted our knowledge of business and were able to create our company, Tip Tap.
Senior Cohort 
Easypick
A free mobile app that simplifies the grocery shopping experience while saving time and money. Easypick makes it easier for food lovers to make and share grocery lists, find the best price and deals on the best quality products, and to find the best grocery stores nearby to suit their shopping needs.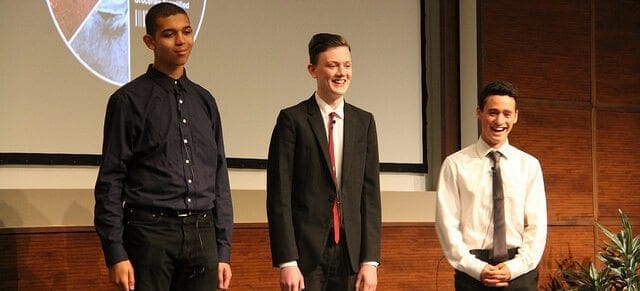 The opportunity to experience and participate in the MaRS Future Leaders program has been very fascinating and enlightening for us. It's amazing how much progress can be accomplished in the course of five days, and how impactful it's been for us. This program has brought out so much unrecognized interest about business and innovation, and how important it is for us, as youth, to keep on innovating and aspiring.
The first idea we brainstormed actually was the Easypick app, which we saw much potential in, and were very willing to build. We started off writing down a huge pool of what this app could have, and the connections it would make with the users. Then we narrowed down the ideas that were simple and feasible, and keyed in on who this would be useful for. We figured that the advantage with Easypick is how its target market is so vast, and how it could specialize to many different people regarding their preferences. This is the primary goal we focus on for Easypick, so it really becomes universal. The next couple of days we learned about many different guest speakers, from Revelo to Drumeba. This was very interesting for us, as we learned about the duties and the experiences an entrepreneur has to face. We appreciated the opportunity to hear from these guest speakers and talk to various mentors, as they influenced a good part of our decisions for Easypick, such as social media and our many partnerships. Throughout these days we also learned about value propositions and the power of communication skills, two things that aided us a lot as we built Easypick's foundations. We also got the opportunity to do a real commercial, which was a very exciting, easy and fun experience for us.
The day to present our pitch we were prepared and confident. We had received international interest in our product via social media, and had more than an hour of practice, talks with mentors and a special talk from guest speaker Adam Hart-Owens about confidence and how to own the stage. With these and the other activities we did, we came to the stage truly ready, and it was a grand success. Being the winning group was absolutely wonderful for us, and we were very proud of ourselves for the great efforts we put in to bring Easypick this far. We haven't confirmed our next steps for Easypick yet, but we plan to talk to many leads and break down from there to find our main customers, as well as build the real prototype for Easypick.
To learn more about the events of each day of the camp, and the facilitators of each cohort, see our recent news.
See more photos from the week on Flickr.
Watch this short video to learn more about the MaRS Future Leaders program, or contact futureleaders@marsdd.com for information.
Lauren Seymour
Lauren worked with the entrepreneurship programs team at MaRS. She kept track of thousands of event attendees and assisted in marketing efforts to keep them coming back for more. See more…
Filed Under