Future Leaders winners tackle physical inactivity among youth
Last week, MaRS was abuzz with budding young entrepreneurs testing the business ideas of the future.
During the course of the week, 16 ambitious, creative and inquisitive 13- to 15-year-old students were hard at work inventing and testing a business idea as part of the MaRS Future Leaders program.
Under the guidance of one-on-one mentors, successful entrepreneurs and dynamic teachers, the students learned how to draft a business model, interview potential customers, develop a marketing strategy and present a compelling pitch.
The purpose of the program is not only to teach youth about the entrepreneurial process, but to also teach them skills and lessons that will help them succeed in life, such as collaboration and teamwork, perseverance, the ability to see problems as opportunities and the importance of seeking feedback. 
Since the pilot launch of MaRS Future Leaders in July 2012, its programs, including the weeklong boot camp and quarterly meet-ups, have inspired over 80 youth to break the constraints of the current job landscape and create their own dream jobs, if they don't already exist.
We asked Youth in Motion, winners of the pitch competition's $1,000 prize, to write a guest post about their experience and what they learned about launching a business. Read what they had to say below.
The MaRS Discovery District offered Isabelle and I a nurturing environment filled with numerous growing entrepreneurs. Together, we joined 14 other students in building our own business ventures as MaRS Future Leaders.
From the beginning, you're enchanted by the program. A successful organization has taken the time to educate youth about marketing, entrepreneurship and pivoting (the art of altering your business to fit the needs of investors), and you were smart enough to apply. Congratulate yourself! Programs like this are rare and invaluable, so we encourage those interested to seize the opportunity with both hands!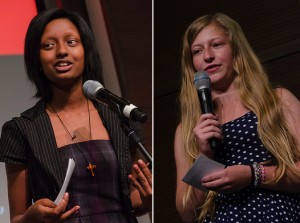 Isabelle and I began our journey as MaRS entrepreneurs by continuously brainstorming business ventures. Once we found a common interest in decreasing the high levels of physical inactivity in Canada, we set out to solve for a solution.
Our solution resulted in a little startup company called Youth in Motion. We faced many challenges of selling a service to youth (such as finding the right market size and perfecting a value proposition), but we finally altered our plan to our liking.
In the end, we decided that Youth in Motion would offer a series of motivational programs to help parents engage their children in healthy and active activities, while meeting new people and having fun.
To make the company sustainable, we decided to build our personal brand by hosting a fitness tour across Canada and then licensing our name and program to fitness facilities and community centres across the country.
Creating a realistic, innovative and wanted service is no small feat. Thankfully, our entrepreneurship boot camp gave us the tools for success.
The program provided us with the experience and connections needed to improve and expand a business.
The program helped us uncover a problem, thus fuelling the passion needed to be an entrepreneur.
The program sharpened our skills in gathering marketing intelligence, as well as our ability to form value propositions with formulas and hands-on exercises.
Ultimately, we leave MaRS with friends from all across Toronto, a deepened understanding of what it takes to create a startup, and the wisdom and secrets of knowledgeable and business-savvy mentors. The MaRS Future Leaders entrepreneurial boot camp provides the most useful workshops for youth, and we'd recommend it to anyone willing to learn.
For more on Youth in Motion:
See photos from the week on Flickr.
Watch this short video to learn more about the MaRS Future Leaders program, or contact futureleaders@marsdd.com for information.
Related reading and past winners 
Marielle Voksepp
Marielle works as part of the education team at MaRS. She helps entrepreneurs get access to business resources both online and in-person. See more…
Filed Under