Three ideas to drive Canada's global energy innovation success
Canada's more than 700 energy and cleantech companies make up an $11.3 billion industry, a number that is projected to more than triple in the next decade. Despite these impressive results, innovative Canadian cleantech companies often have significant difficulty finding initial buyers for their technology within our borders – a challenge, because domestic market validation is often a make-or-break determinant of a company's global market success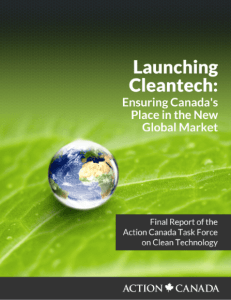 How much more could this sector contribute to Canada's economy if we bought more of our own technology?  This was the problem I took on as a 2011-2012 Action Canada Fellow.  I led a team that reached out to key Canadian cleantech thought leaders and market makers to figure out how we could unlock the full potential of this sector, and that looked around the world to learn from the most successful international jurisdictions.  Our final report made the following three recommendations:
1.     Build domestic demand: Many of our global competitors – including the US, the EU and China – have taken aggressive steps to grow their domestic cleantech industries through programs that procure domestic innovation. Canada, however, lacks a comprehensive and robust national strategy. Though Canada has taken some steps in this area – most notably through the Build in Canada Innovation Program – there is a pervasive hesitation to employ Canadian innovation to solve our own problems. The Financial Post argues that Canada's deep-seated culture of "modesty and compromise" has made the country a "productivity laggard" in this area. Procuring and developing Canadian innovation is a smart long-term strategy. New technologies have the potential to create efficiencies and savings here at home while building Canada's ability to generate export revenue. Our competitors have found ways to leverage these opportunities and integrate them into their domestic technology mix, and so should we.
2.     Providing export credit: Canada's cleantech companies are often hindered from entering global markets because they lack access to financing. This is where export credit agencies – like Export Development Canada (EDC) – come to the fore. EDC provides credit for potential foreign buyers of Canadian technology, and their involvement in a deal can unlock follow-on flows of private capital.  Still, Canada should follow in the footsteps of its international peers by developing an aggressive cleantech export financing policy.  Many potential cleantech technology deployment opportunities are smaller than the $100m+ chunks infrastructure investors usually seek.  A combined debt and equity fund focussed on developing these 'smaller' opportunities would significantly accelerate the global deployment of Canadian cleantech & energy technologies.
3.     Unlocking private finance & investment: The Canadian government has the potential to unlock and channel vast pools of private capital to invest in cleantech. Because cleantech is an emerging field, private investors have a hard time pricing the risk they're taking on and are often unwilling to take 'first loss' positions in deals.  Many of our global competitors have responded to this challenge by creating specialized financing vehicles for driving private sector investment in their domestic cleantech sectors.  The UK's Green Investment Bank (GIB) is a good example: for every pound the GIB has deployed, it has leveraged 3.7 pounds of private investment – capital that likely would not have entered the sector without the right combination of risk and reward.
If Canada wants to capture its fair share of the multi-trillion dollar global market for cleantech and energy technologies – and the jobs and tax revenues that come with it – we must facilitate the domestic success of our innovation.  The Advanced Energy Centre's mission is to tackle this challenge – if you're as passionate as we are about this, we'd love to have you join us!
Filed Under