Mexican market reform creates opportunities for clean energy technologies
The Mexican electricity landscape has been significantly altered since the introduction of energy reform in 2013. There has been a complete restructuring of the sector, opening up the market to private investment and creating new regulatory bodies in both the fossil fuel and power sectors. The main aims of the reform are:
Reducing electricity prices
Increasing renewable generation
Attracting private investment into the electricity sector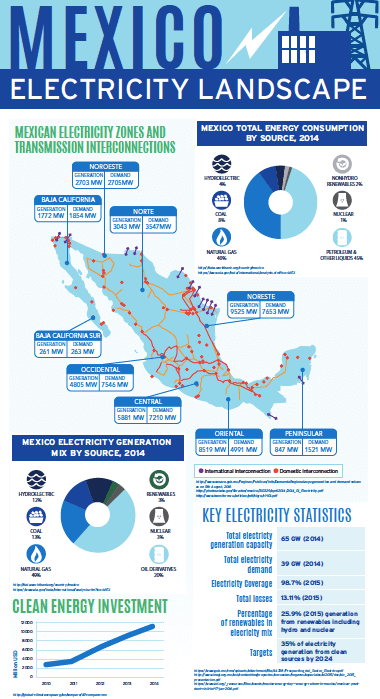 The Mexican government aims to increase renewable generation to 35% of total electricity production by 2024. It has also set ambitious GHG reduction targets, aiming for a 22% decrease by 2030. To realise these objectives and meet the country's increasing electricity demand, the Mexican government recognizes the need for clean and reliable generation along with smarter technologies and services in the electricity sector.
Mexico has an ageing asset base and a high dependence on fuel oil for electricity generation. Cogeneration technologies with natural gas are expected to be favored in the short term, as Mexico looks to phase out oil-based electricity generation and replace it with a reliable source of base load. However, the potential for renewables is high in Mexico, with abundant and underutilized wind, solar, geothermal and micro-hydro resources.
Since the energy reform, Mexico is being seen as a lucrative market for foreign direct investment in renewable energy generation. The Mexican government is currently conducting capacity auctions, with results from the 1st auction announced in March 2016 and the 2nd auction results due to be announced by the end of September 2016. The first generation of capacity auctions favored solar and wind development at very competitive prices, with expected similar results for the 2nd auction.
Apart from renewable generation, the Mexican government is also interested in smart grid technologies. The primary drivers for these technologies are transmission congestions, technical and non-technical losses, renewable integration and reliability of supply. Other players who will realize opportunities in the next 5 years include companies focusing on advanced metering infrastructure, energy efficiency, energy storage and demand management solutions.
As with any emerging market, there are certain challenges to entry involving issues around complex local regulations, governmental systems, legislation and proper enforcement of laws. Partnering with local businesses will help Canadian companies navigate new markets more easily. However, some other challenges are unique to Mexico. The energy reform is new, and the landscape still changing. Smart grid plans are still in development and customer focused programs are in nascent stages. Mexico does not have a feed-in tariff scheme and is relying on market-oriented plans, causing renewables to compete with fossil fuels directly. The Advanced Energy Centre's Going Global Mexico report provides an overview of this market, delivering insights for Canadian companies who are considering exporting there.
The AEC believes that the opportunities for Canadian companies outweigh the challenges of Mexico's reformed and emerging electricity sector. We are committed to working with our partners and wider network to help companies identify opportunities in these markets and successfully do business there.
Read more
Filed Under