AEC Director of Partnerships named 'Future Energy Leader'
The Advanced Energy Centre's Ian Philp was recognized as a 'Future Energy Leader' by the World Energy Council and the Energy Council of Canada last week. Ian was received this award and formally entered into the Future Energy Leader's Program at the 2014 Energy Person of the Year Awards Gala on Thursday. He was accompanied by other leading energy actors including Anthony Haines, CEO of Toronto Hydro, who was named Canadian Energy Person of the Year.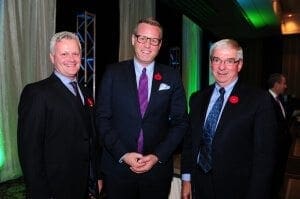 The Future Energy Leaders Program (FELP) is an elite community of young professionals who share a commitment to shaping the future of energy globally. Coming from all regions of the world and across sectors, Future Energy Leaders (FELs) represent the future of energy leadership.  The FEL program is designed to further develop knowledge, skills and experience in the energy sector. Participants are also expected to contribute to the World Energy Council's global dialogue on shaping the future of sustainable energy.
This announcement is timely and appropriate given the Advanced Energy Centre's growing role as a catalyst for the adoption of energy innovation in Ontario and international markets.
 ————————————————–
Future Energy Leaders Program: The FELP is administered by the World Energy Council (WEC), the principal impartial network of leaders and practitioners dedicated to promoting an affordable, stable and environmentally sensitive energy system for the greatest benefit of all.  Formed in 1923, the WEC is the UN-accredited global energy body, representing the entire energy spectrum, with more than 3,000 member organisations in over 90 countries and drawn from governments, private and state corporations, academia, NGOs and energy-related stakeholders. The WEC informs global, regional and national energy strategies by hosting high-level events, publishing authoritative studies, and working through its extensive member network to facilitate the world's energy policy dialogue.
The Energy Council of Canada (ECC) is Canada's national chapter of the WEC, and contributes Canadian perspectives on the development of global expert knowledge, energy information and policy perspectives.  Within Canada, the ECC is the vehicle for strategic thinking, collaboration and action by senior energy executives in the private and public sectors with an interest in national, continental and global energy issues.  The ECC's mission is to forge a better understanding of energy issues in order to optimally shape the energy sector for the benefit of all Canadians.
Filed Under